Program Summary
The Cyber Incubator@bwtech is where early-stage and startup companies specializing in cybersecurity, IT products, and technology services can find the support they need to thrive.
Featuring Class A offices and co-working spaces, the Cyber Incubator is home to more than 45 businesses. Members enjoy access to training programs such as the Government Contracting Institute with TargetGov, UMBC student internship subsidy programs, entrepreneurial services team technical support, and collaboration opportunities with UMBC faculty. In addition, the Cyber Incubator is in close proximity to UMBC, an NSA/DHS Academic Center of Excellence for Cybersecurity conveniently located within the Baltimore/Washington D.C. corridor.
The Cyber Incubator features 16,741 sq. ft of space and can accommodate businesses at all stages of development, from startups to mature companies. It provides customized business support as well as high-quality and competitively priced office space on a dedicated, shared, or drop-in basis. Here, members also receive mentorship from experienced and successful Entrepreneurs in Residence who can help with the process of commercializing their ideas.
---
Cyber Incubator Advantages
In addition to providing the space, resources, and expertise many depend on to grow their businesses, the Cyber Incubator also offers several unique advantages that can give members a competitive edge. From financial assistance opportunities to guidance, research and resource sharing, and networking, the Cyber Incubator@bwtech is dedicated to providing companies with the support they need to succeed.
---
Cyber Cync
Members benefit from bwtech@UMBC's strategic partnership with Northrop Grumman Corporation, a global leader in cyber technologies. Through Cyber Cync, Northrop Grumman has worked with bwtech@UMBC to offer a scholarship-like program to member companies with innovative and practical cybersecurity ideas. This helps members find the direction and financial assistance needed to bring their concepts to life while creating groundbreaking technologies in the cybersecurity space.
---
iCyber Center
The Cyber Incubator continues to draw companies to Maryland with iCyberCenter. The U.S. is the world's largest, most open, and most dynamic international market for cybersecurity products and services, receiving the majority of the $3.5B invested in cybersecurity ventures globally each year. The iCyberCenter training and incubation program attracts overseas cybersecurity entrepreneurs and businesses to bwtech@UMBC and Maryland, providing valuable services to assist them in entering the competitive U.S. cybersecurity market.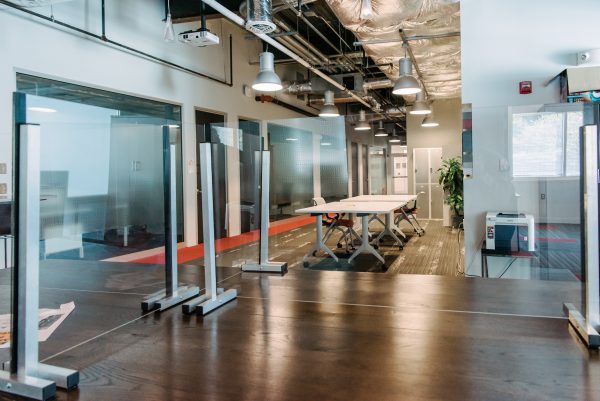 ---
Cybersecurity Venture Fellowship Program
The Maryland New Venture Fellowship for Cybersecurity supports the advancement of cybersecurity businesses in Maryland. This $1.3M program, created in partnership with bwtech, UMBC, the University System of Maryland, and the U.S. Department of Commerce's Economic Development Administration, funds cybersecurity entrepreneurs working in collaboration toward cyber solutions and technologies that impact the public. Entrepreneurs in the program also benefit from graduate student assistance, Entrepreneur in Residence mentorship, and the research of faculty members from Maryland universities.
---
CyberTini
bwtech@UMBC also hosts CyberTini events throughout the year. These engaging panel discussions give entrepreneurs the opportunity to learn from industry experts, covering important topics in the cybersecurity world. Attendees can also be the first to hear announcements and perspectives from the movers and shakers of the industry while enjoying networking opportunities at these high-end, C-level cocktail party socials.
---
Grow With Us
Are you ready to take your cybersecurity, IT product, or technology services company to the next level? The Cyber Incubator@bwtech can provide the resources, research, guidance, and expertise to help you get there. Call (443) 543-5047 to speak with a bwtech@UMBC staff member. We will work with you to help you find the services that can meet your business's needs best.